[et_pb_section admin_label="Section" fullwidth="off" specialty="on"][et_pb_column type="3_4″ specialty_columns="3″][et_pb_row_inner admin_label="Row"][et_pb_column_inner type="4_4″ saved_specialty_column_type="3_4″][et_pb_text admin_label="Text" background_layout="light" text_orientation="left" use_border_color="off" border_color="#ffffff" border_style="solid"]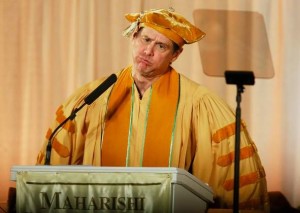 In the commencement speak to Maharishi University Jim Carrey injects the humor and fervor you expect from such a consummate actor and comedian. But that is sidelined to the pieces of wisdom he gently sprinkles throughout the twenty six minutes. The crowd is often found chuckling, smiling and clapping. But one moment seemed to find the most resonance with the hopeful and eager crowd of graduates. One moment pulling from the experience given to him by the sacrifices his father made. Which I find most appropriate as I write this on the eve of father's day weekend. Even with the comedic potential his father had, the fear of the unknown, the fear of pursuing your dreams, the fear of success, whatever fear it was derailed his aspirations to eventually have him become an accountant. And even with this so called "safe" choice a few years down the line his job was taken from him. This was the moment where seven year old Jim Carrey was able to see impermanence of your choices. Flash forward to the now fifty-two year old Carrey standing in front of the graduating class of 2014 with a smile ear to ear. From telling that story Carrey so powerfully states, "You can fail at what you don't want, so you might as well take a chance on what you do."
The crowd, all several hundred students, parents, faculty, family and friends immediately erupted into applause and cheer. The resonance of such a statement immediately places my thoughts with my father and realizing the choices he has made in life. But it is not the lack of choice that haunts me about him, it is the fulfillment of his. Even when you speak with him to this day, some 15 years retired he still reminiscences with such passion and love for his profession. There is never a thought to change any moment within those twenty years of his career. A career that was cut short for an indefinite period of time. A career that he felt so strongly about that was taken away from his in an instant. This is the realization of choice that haunts me. It makes me want to amend the words that caused such an applause to roar from the crowd. " You can lose the things you want to keep, so you might as well keep going after the things you want." Making a choice you believe to be right, or comfortable, is a path many people follow away from their dreams or aspirations. Which can only place the burden of loss on you. But there are the instances where you follow your path and it still can be taken away, but in a manner that you can not blame or overcome.
It is in that thought that I was stuck many times. How can we persevere through so many trials to find ourselves in personal bliss only to have it taken away? Taken away in such a way that the action is faceless, blameless. This can be a paralyzing thought that leads to inaction. But it is a thought that is derived from carrying only one perspective. There is a mantra that is re-used and transformed many times but still rings true because of it. "Do know worry about the things you cannot control." My father was a living, breathing and preaching example of it. Even in the face of having something ripped away from him that he so dearly loved the immediate thoughts of his life experience were not that of anger or resentment towards what was possibly lost, but of enjoyment and love towards what was certainly gained.
It is a lesson that has been stitched through the time of all human history. Like the Roman Emperor Marcus Aurelius' proclaimed, "Choose not to be harmed – and you won't feel harmed. Don't feel harmed – and you haven't been." My father choose not to feel wronged, but to feel grateful for even knowing what right felt like.
As Mr. Carrey moves along through his speech there is a genuine feel about his words that I can not but feel similar to my fathers. As we go through life so often we find ourselves caught amongst these hurdles that we place right in front of ourselves. They can be so often debilitating especially when they are self-constructed. If you are never given this advice from a loved one, take it now. There is no good and bad that we come across for these are self constructs as we react to your situation. If you find yourself caught in a bad situation, simply change your perspective.
[/et_pb_text][/et_pb_column_inner][/et_pb_row_inner][/et_pb_column][et_pb_column type="1_4″][et_pb_sidebar admin_label="Sidebar" global_module="2616″ orientation="right" area="sidebar-1″ background_layout="light" remove_border="off" saved_tabs="all"] [/et_pb_sidebar][/et_pb_column][/et_pb_section]